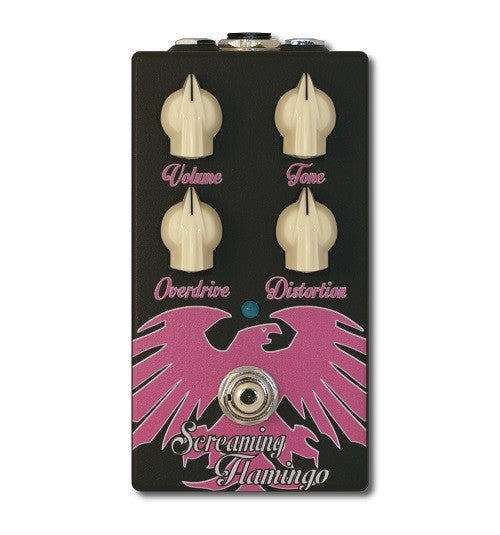 AJ Peat Screaming Flamingo - Overdrive/Distortion
Description:
2-stage overdrive: Pink and Really, Really Pink!

The Screaming Flamingo is a classic 2-stage overdrive pedal with a twist, but it still retains plenty of transparency, grit, gain, and fidelity. This pedal is unique from any other 2-stage overdrive in that it uses 3 stacked op-amps to produce its tone. That's right, we stack 3 op-amps in a proprietary manner that gives this pedal a tone you will want to go back to time and time again. You'll love the sound so much you might get a pink Cadillac just to match it! With four pots to play with: Volume, Treble, Drive and Distortion controls, the Screaming Flamingo gives you maximum flexibility and tonal variety. Made of the finest components, it's durable and virtually indestructible. Plus, it looks cool and has tone for days!

Used by: Warren Haynes, Bill Kirchen, Junior Watson, Bobby Moses Nicols, Frank Macias (Los Amigos).
Features:
-Volume
-Tone
-Overdrive
-Distortion
-True bypass
Power:
-Standard center negative 9V DC supply only (not battery capable)
-Current draw: ~31mA
Dimensions:
-4.8" L x 2.62" W x 1.55" H
Health and Safety:
-WARNING (click for more information)